(August 3rd, 2016) Race cars are faster than they have ever been and drivers and race team members are using the latest technologies to make their machines even quicker. But innovations to our sport have not been about just speed and handling. Safety is a primary concern and we've seen big improvements in this area. In this week's Conversation we meet Shawn Tucker, owner of Tucker Racing Products. Shawn knows a thing or two about winning championships and big races, but he also knows how important it is to make race cars safe.
A Conversation with Shawn Tucker
Wade: Hello Shawn. You've been out of the race car for a couple of years now, but folks sure remember how successful you were as a driver. A Speedway 660 pro stock title, three Parts for Trucks Pro Stock Championships, an IWK 250 win, three pro stock 250 trophies from SpeedWeekend and a lot of other big race wins. How hard was it to step out of the car and do you miss the rush of racing?
Shawn: It was hard to step out of the car, but it was time. Twenty-six years of driving a race car has been challenging but very satisfying. I put a lot of thought into the timing of stepping down and letting Dustin take his turn in the driver's seat. Dustin has put a lot of work into my racing career, so I thought it was time for a little payback and time to let him drive. As for the rush of racing, I will always miss it. I don't think people who have not been in a race car would ever understand the feeling a driver gets when he or she climbs through the window, the rush, the butterflies (yes the butterflies) and the excitement that is about to happen.
Shawn Tucker had a hall of fame racing career that spanned almost three decades. His accomplishments include: three Maritime Pro Stock Tour titles, three SpeedWeekend Pro Stock 250 wins, an IWK 250 win and a Speedway 660 Pro Stock Championship. 
Wade: You are now working with your son Dustin. He's coming along nicely and has developed into a pretty solid young pro stock driver. You must be proud.
Shawn: I'm extremely proud of Dustin. He is developing nicely and as long as I see progress and dedication I will support him in any way possible. Putting him directly into a pro stock probably wasn't the best situation, but it was what I did, so we tried it with him and I'm glad we did. I don't put any pressure on him and I think that helps a lot. I also think that because he puts so much heart and time into racing that it is really helping him to develop into the racer he is today.
Shawn Tucker is a proud father. His son Dustin is having a great season at 660 and has got a real shot at a top five spot in the Re/Max Group Four Realty Pro Stock Championship standings.
Wade: We want to focus on safety in this conversation. Do you remember what the safety gear was like when you grew up watching your Dad race, what were the cars like in terms of safety when you started driving in the early 1990's and how much emphasis was there on safety back then?
Shawn: I remember very little about what my Dad used as far as safety equipment, but I'm sure it was not nearly as safe as what is being enforced today. As far as when I started racing, the cars were not much different than what we have today other than a few things. Those things would include seats, I had a fibreglass seat, and today seats are aluminum or carbon fiber (much safer). I wore an open face helmet with no hans device, today full proof, full face helmets with hans device. As far as the roll cage, the real difference would be how the seats and seat belts are mounted, there has been more time and care taken into mounting these parts which makes them work much more efficiently. Also with the frame you will see the door bars on the left side of the cars are fully plated in with steel plates and more bars placed by the drivers feet to help with a hard side impact. 
Shawn Tucker was a competitive race car driver long before Speedway 660 opened back in 94.  In this 1990 photo, Shawn celebrates a big win at Speedway 95 down in Maine. Note the open face helmet that all drivers wore in that era.
Wade: Fast forward to today. Let's start with the cars that come out of the Tucker Racing Products shop. Tell us how the cars are designed and built in terms of making them safer for drivers?
Shawn: All stock cars that are built are somewhat the same as far as the cage goes, obviously each would have their own little quirks, but the main thing is using the proper tubing to build these cars. That is where most of the cost is in building a chassis, but in the long run the car will be safer in the event of a hard crash and the cars will last much longer.
We recently got to see a race car being built at Tucker Racing Products. The roll cage and inside driver's door panel have been designed to keep drivers safe.  Shawn knows that drivers are always looking for more speed, but he also knows how important safety is in our sport. 
Wade: Now let's look at the driver as he or she climbs into a race car.
Shawn: I talked a little about some of the safety equipment used by the drivers such as hans device and helmet, but I will say all of them are a necessity. I've always told people to try and get the best driving suit no matter what class you're in because fire has no forgiveness. As far as seats, I can tell you a good story. I was in a race at Speedway 95. I was racing with a gentleman by the name of Stan Meserve. He was tech inspector for the then Act tour but had the weekend off so he was racing. He was in an accident that day and got hurt badly. A bumper from another car come through his door then went through his fibreglass seat and badly cut his leg. That is where the aluminum seat came into play and the plating of the driver's door on the roll cage.
The driver's seat is one of the most important safety features in a modern day race car. Tucker Racing Products makes sure race car seats fit and protect the driver.
Wade: You mentioned the HANS head and neck support device. Fans may not know this, but Speedway 660 is the only race track in Atlantic Canada that mandates the use of the HANS device for every driver. We've also got a tremendous infield fire, rescue and emergency medical team. That's a real commitment to safety.
Shawn: Speedway 660 should be commended for the safety regime. They have always had a top notch rescue team that really do not get enough acknowledgements for what they do. Me personally, and I think I can speak for everyone involved would like to thank them for their time, commitment and professionalism, it's much appreciated. 
Speedway 660 has got a great infield rescue crew. Buddy Munn's Emergency Medical Team and Shane MacFarlane's Fire & Rescue Team respond quickly and are dedicated to keeping our drivers safe.
Wade: It's really important to keep all of our drivers safe, but with more and more young kids getting into the sport that makes it even more important.
Shawn: Yes, it is very important, I'm sure any parent would say that they would want their child to be safe when jumping into a race car. Safety gear should be a priority for anybody getting into this sport. 
Here's nine year old Ryan Messer with his mom and dad, back in 2010, when he won our first bandolero championship. This year Ryan is in the running for the Martin's Home Heating title.  Its important for parents of young drivers to know their child is safe when he or she goes racing.
Wade: The death of Dale Earnhardt at Daytona touched the hearts of NASCAR fans. And we also lost Mike Stevens at a Parts for Trucks race on Prince Edward Island. Those tragic accidents made us realize how fragile life is and how important it is for everyone to focus on making our sport safer.
Shawn: I watched the Dale Earnhardt race on TV. I was not involved in the race but it touched me none the less. Now on the other hand, during the Mike Stevens accident I was actually racing WITH him. He was a very good friend and I will never forget that race. It does show that life is fragile. Safety has to be the first thing any driver considers before driving any race car (safety first… speed second).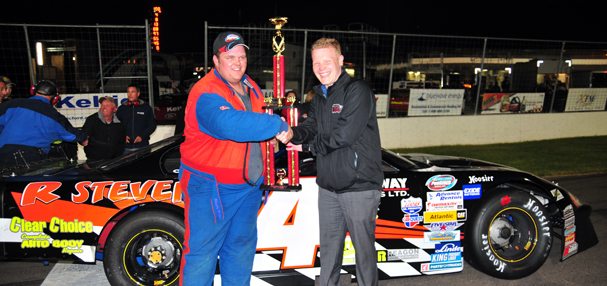 Mike Stevens, who ran sportsman and pro stock cars at Speedway 660, lost his life in a racing accident on Prince Edward Island back in 2013. That tragedy shocked the Maritime racing community and made everyone realize just how important safety is in our sport.
Wade: In terms of safety, what advice do you have for drivers and anyone else involved in race teams?
Shawn: In terms of safety… drivers, crews, everyone involved should take it seriously. Make sure everything from what you wear, to how the car is built, to how the throttle and brakes feel on the car, is all done to the best of your ability. Safety should always be the first thing on the mind of anyone involved.
Shawn Tucker loves to see Dustin go fast and win races, but he also knows that safety is the most important part of racing. Tucker Racing Products is one of our region's most progressive race shops and Shawn's commitment to safety and speed, in that order, is the reason his business is so succesful.    
Wade: Thanks for doing this Shawn and thanks for all the work you do at Tucker Racing Products to make our sport safer.
Shawn: Thanks for giving me the opportunity to talk about the importance of safety in racing.  See everyone at the track!