The first marquee event of Atlantic Canada's stock car racing season is scheduled for this Saturday night at Speedway 660. North America's premier short-track series is headed to the Geary Woods for its only Atlantic Canadian race of the season. Earlier this week Wade Wilson caught up with the 2013 Pro All Star Series North Super Late Model champion Cassius Clark.
Wade: Hello Cassius congrats on winning the PASS title last year. That must have been a dream come true for you and the entire Hight Motorsports race team.
Cassius: Thank-you Wade, we sure did have a dream season last year and it was nice to finally be able to achieve our ultimate goal after coming up a little short in 2012. I am very fortunate to drive a race car for the Hight Motorsports race team, because they put us in a position to win races and chase a championship all season long.
Wade: Fans up here sure are excited to have the chance to see you guys race again. Your event at Speedway 660 got rained out last year and we missed out on seeing you race.
Cassius Clark claimed the 2013 PASS North SLM championship trophy, on behalf of the Hight Motorsports Racing Team, out of Skowhegan, Maine. Cassius can't wait to bring the team's #77 back to the Geary Woods this weekend.
Cassius: All of the PASS North SLM drivers were disappointed about the rain-out at Speedway 660 last year. I was really looking forward to coming back up your way after winning the Auto Value 250 the year before. You've got a tough little track and I was hoping to use the experience I gained in the 250 to help us have a good run in the PASS 150. It's always fun to race at 660, you get a great crowd and the fans up there appreciate good racing, so hopefully the weather will co-operate and we'll do our best to put on a great show for everybody up there.
Wade: The Pro All Star Series is tough. There are a lot of great drivers and teams on your tour. What's it take to win a Super Late Model title?
Cassius: This might sound a little strange, but it takes a lot of luck to win any short-track championship. The racing is so fast and the tracks are really tight, so it doesn't take much to get caught up in a wreck. And short track racing is really hard on the drive-train, so motors, transmissions, rear-ends, drive-shafts and brakes take a real beating. One or two wrecks or mechanical failures can pretty much ruin your chances of winning a championship. Preparation is also really important and the work the team does back in the shop can make the difference between running up front and not being competitive. Patience is another key. You can't win one of these long races on the first lap. You've got to make your passes when you can, save your stuff, stay on the lead lap and be there at the end when the race is on the line. It also helps to have a great team and awesome owners.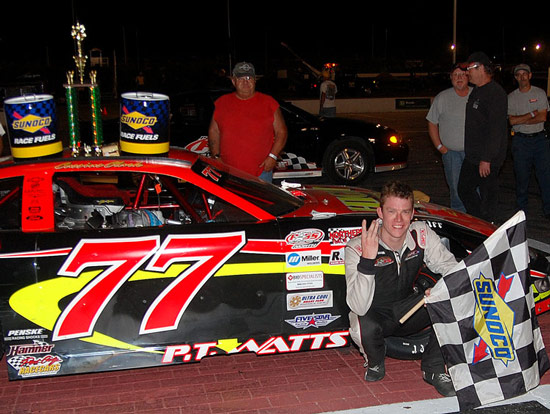 Cassius had a dream season to remember in 2013. This year has been tough sledding for the popular young driver from Farmington, Maine. But Clark has had some good runs at Speedway 660 and hopes a win here this weekend will help turn his season around.
Wade: Let's talk about Speedway 660 and how to win here. You are the 2012 Auto Value 250 champion. So what is your strategy heading into this weekend's race?
Cassius: It would be really nice to start up front at 660 and lead some laps early, but like I said earlier the key is being in contention in the last 25 laps and stepping up when the end of the race is in sight. We've had some bad luck this season and that continued last weekend in the White Mountains, so we're excited to come to New Brunswick this weekend and hope to turn our season around. Speedway 660 is a track I like running at, we've had some success there and when the PASS schedule came out, I circled June 7th on my calendar because this is a race I think we can win.
Cassius Clark gets "turned around" at a PASS North SLM race at Star Speedway in Epping, New Hampshire earlier this season. After being virtually "wreck-free" during his 2013 championship season, Clark is feeling the pain in 2014. He hopes a win at Speedway 660 this weekend will turn things around for the Hight Motorsports Race Team.
Wade: There's a bit of a wild card when you guys come up here because we always see a few of our Re/Max Group Four Realty Pro Stock drivers and teams from the Maritime Pro Stock Tour run the race. What do you think of the competition north of the border?
Cassius: Wow, your guys are pretty amazing. There are a lot of great drivers up there who run the weekly show at your track. I've met most of them when I come up for the Auto Value 250 and am impressed with their equipment and ability on the race track. Those Maritime tour guys are strong too. It's a lot of fun running against guys like Dave O'Blenis, Shawn Tucker and John Fleming. If your guys come out this weekend, I know they'll be tough and be in contention.
Wade: Tell us a little bit about your racing career? When did you start, what did you drive and how did you move up through the ranks?
Cassius: I started out racing Legend Cars and moved pretty quickly up to into the Pro All Star Series. I'm really content with what I'm doing right now and am most fortunate to race for Corey Hight our team owner and Brian Burgess our crew chief. We've got an amazing team based in Skowhegan and I am really happy that they want me to drive their car. I run my own business and don't have a lot of time or money to do what it takes to be competitive, on my own, in the PASS SLM series.
Wade: We really would like to see you and the other PASS stars up here on Labour Day Weekend for the Auto Value 250 on SpeedWeekend 2014.
Cassius: I've raced up your way for Rollie Macdonald in some of your big races. We've had some good runs at the IWK 250, the Atlantic Cat 250 and the Auto Value 250. That Auto Value win a couple of years ago at 660 was one of the biggest of my racing career. That King Freight Car is awesome. If our schedule allows and if Rollie wants me in the seat, I'd love to get another shot at an Auto Value 250 win. You've got some serious cash up for grabs in that race and the competition is always top notch.
One of Clark's biggest wins came at Speedway 660 when he won the Auto Value 250. D.J. Shaw, who has won three PASS North races in a row this year, settled for second behind Cassius at the 2012 SpeedWeekend event. 
Wade: Thanks for doing this Cassius and we look forward to the race this weekend. Drive safely on your way here.
Cassius: Thank-you Wade. We'll drive easy until the race starts on Saturday night! I'm really anxious to get to Speedway 660 this coming weekend. D.J. Shaw has won three PASS races in a row and is the hot-hand right now. It'll take a good run, against some strong PASS and local competition to pull off the win, but we'll give it our best shot. Please say hello to all the great race fans in the Maritimes for me and tell them I look forward to seeing them this weekend