The West Wood Estate Apartments Bandolero division is producing a lot of great young drivers at Speedway 660. Track announcer Wade Wilson recently caught up with one of them. MacKenzie Brewer is really excited about the upcoming season in his number 55 Bando.
Talkin with MacKenzie Brewer
Wade: Hey MacKenzie, I hope you had a great winter in the hockey rinks. But now it`s time to go racing. How do you feel about your racing program heading into 2014 at Speedway 660?
MacKenzie: Hi Wade, I'm really excited to get the season started. I'm hoping to go out and race hard to get some wins. As for hockey, we had a lot of fun and our team won the provincial championship. It would be pretty special to be a contender for the West Wood Estate Apartments Bando championship this summer. But there's a lot of strong competition out there and our team will have to work hard to get the job done.
MacKenzie Brewer has a new paint scheme to show fans when Speedway 660's 2014 season gets underway this coming Saturday night.
Wade: Tell us a little bit about your career in racing. How long have you been in this sport and how did you get involved?
MacKenzie: I first started coming to the races when I was three years old to watch my "Papa", Brian Campbell, in the street stocks. At the age of five, I started racing in go-karts for five years and then I went on to the Bandolero Division and this is my fourth year in this division.
Wade: That Bando division has tough competition and these little cars are wicked fast. I know you kids are from "Generation No Fear", but does it ever get a little scary out there?
The West Wood Estate Apartments Bandolero Division provides a great place for kids to get involved in racing. Many of them run go-karts for a few years before moving up to Bando. MacKenzie and the rest of the Bando boys & girls always put on a great show for our fans!
MacKenzie: It does get a little scary out there when you see a car flip in front of you but I try to keep focused on finishing my own race. The drivers in the Bando division respect each other and we've all become pretty good friends. Speedway 660 is a great place to race and the fans are great too.
Wade: We've seen some awesome young drivers come out of the Bando division. Cole Boudreau, Dana Hamm, Alexandra O'Blenis, Dawson McIntee and Drew Greenlaw are five who come to mind. It seems like a great place for young drivers to gain experience and get ready to move on to higher divisions.
MacKenzie: Yes Wade, it is a great place to start learning to race before moving into the higher divisions. I'm glad to see the successes from my fellow Bando drivers who have recently moved up. Best of luck to Cole and Dana up in Pro Stocks and Alex, Drew and Dawson in Sportsman.
Cole Boudreau, a former Bando champ, is now racing in Speedway 660's top division. MacKenzie Brewer would like to win a title of his own this season and perhaps in a few years move up to Sportsman and eventually Pro Stock.
Wade: I know you are focused on the upcoming season, so what's it going to take to be a contender for a Bando championship this year?
MacKenzie: It's going to take a lot of consistency and focus as well as driving hard. Several of the top Bando drivers have moved up, but the division still has some strong competition from the veterans and I am sure there'll be a few fast rookies joining us this year. Before I forget I want to thank the folks from West Wood Estate Apartments for sponsoring our division. David and Lee Goodine love racing and all of us Bando kids appreciate their support.
Wade: Any future, long-term racing plans?
MacKenzie: I have lots of plans for my future racing career, but it all depends on how deep my Papa's pockets are and if my awesome sponsors continue to support my racing efforts. I would like to move to the Martins Home Heating Sportsman Division in the next year or two and then go on to race with the big boys in the Re/Max Group Four Realty Pro Stocks.
Wade: I hear you are a pretty good hockey player and plan on playing Bantam AAA when the racing season ends in September. What do you like about playing hockey and since the Stanley Cup play-offs are underway, do you have any predictions you'd like to share?
MacKenzie: Yes I'm excited to be starting in Bantam AAA after the racing season. I really enjoy being a team player making lifelong friends and getting goals. As for the Stanley Cup play-offs, I am a TRUE Maple Leafs fan, but since they have been eliminated my loyalties are with any team except the Canadians! I think the NY Rangers will take home the Stanley Cup.
The Kennebecasis Valley Sabres won the New Brunswick Bantam hockey championship earlier this year. MacKenzie Brewer, better known as a race car driver in these parts, played a key roll in KV's championship season.
Wade: Is there anything you can take from the rink to the track? In other words does your involvement in one sport help you in the other?
MacKenzie: Wade, as in all sports, teamwork and focusing on your game is very important for success. Hockey is my winter sport and racing is my summer sport. I love both of them and am glad to have the opportunity to play hockey and drive a race car.
Wade: Who is your favourite NASCAR driver and why – and who do you look up to here at Speedway 660 as a positive role model?
MacKenzie: Mark Martin has always been my favorite NASCAR driver. He is the oldest racer in NASCAR and came close to winning the championship a few times.
At Speedway 660, my role model would be my Papa. When he isn't helping me in the pits he's helping the staff at the Speedway. He has taught me a lot about racing and patience.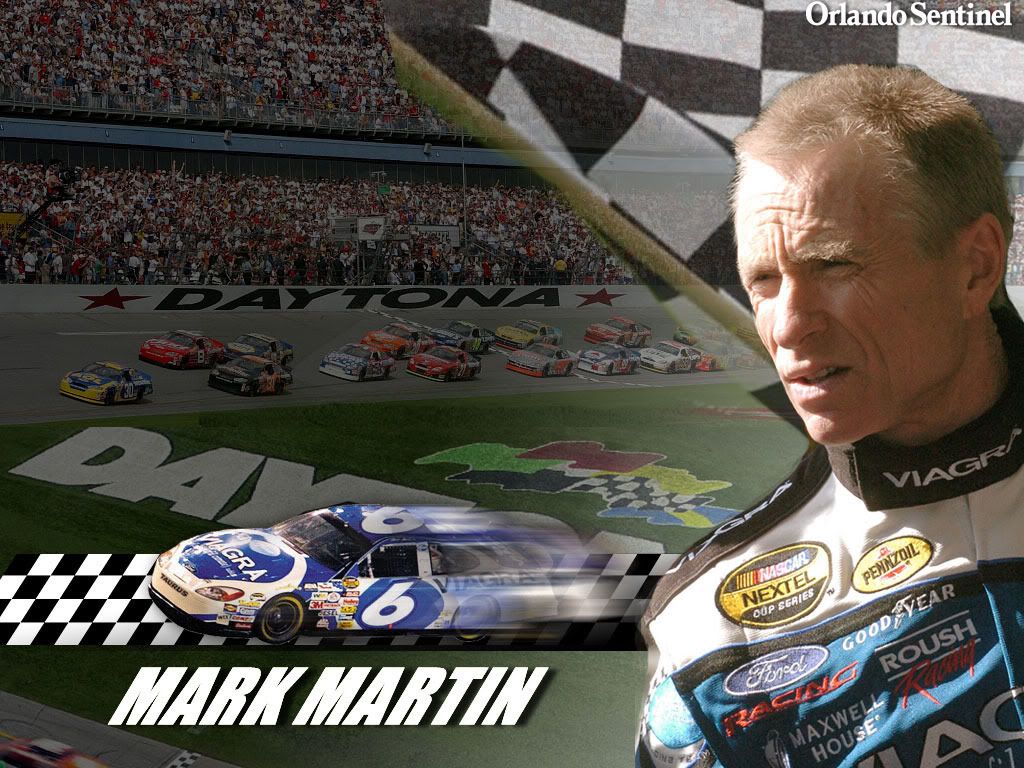 MacKenzie Brewer's all-time favourite NASCAR driver is Mark Martin. It would be pretty hard to find a better role model in our sport than Mark.
Wade: Who makes it possible for you to race every week at Speedway 660 and who do you want to thank for supporting your racing efforts.
MacKenzie: Grammy and Papa Campbell make it possible for me to be at the speedway each week. They drive me here, let me sleep in their trailer and feed me, which is a pretty big expense! Also, my great sponsors, Martin's Home Heating, E.R. Steeves Well Drilling, RV World, Jack Wilkins Signs, Renforth Construction, Lagoon Tycoon, Dave McAllister, Harris Bottle Redemption, Travis Barr Auto Glass, Chris Duncan Racing and Thomas Construction help out a lot. Without them it would be impossible to have the 55 Bando on the track.
Wade: Everybody here at Speedway 660, especially the campers, knows your Grandmother Wanda. I know she is scared to watch you race, but I hear she hardly ever misses one of your hockey games. Doesn't she realize hockey is far more dangerous than racing?
MacKenzie: No she doesn`t realize that I could get a concussion or hurt very badly playing hockey, so let's not tell her. I feel racing is very safe. We've got great safety equipment in the cars and the Speedway 660 Rescue and Emergency Medical Teams are the best.
Stock car racing is a safe sport, but every once in awhile we see a bad wreck. Sometimes even the Bandos take a rough ride. But more often than not the drivers walk away unhurt, even if their cars have to taken away on the wrecker!
Wade: Good luck MacKenzie. Have a great season. I know the fans love watching the Bandos, so go out there and put on a show for them!
MacKenzie: Thank you very much Wade. I am just going to go out there and try to do my best every week. Hopefully that will give me a few podium finishes and perhaps a trip or two to the Riverview Ford Victory Lane. As we head into a new season I want to wish all of the drivers and race team members, in all five divisions, good luck in 2014. I also want to thank Speedway 660's owners and staff for giving us such a great place to race. And most of all I would like to let our awesome fans know that all of us racers really appreciate their support.