Man do I ever hate to see Saturday skies open-up and rain ruin a race day! But that's what happened last weekend when the heavy rains kept us away from Speedway 660.
It was a no-brainer because based on the forecast and what we saw early in the day, it was obvious even to me that we had no chance of racing. It is much more difficult making a decision if the weather is overcast and rain could come. Take for example, a week ago Sunday when the forecast called for 90 percent chance of rain and based on that, the first Enduro event was called off. Guess what? The rain held off.
I always tell people "when in doubt call the race-line at 454-Race". A decision has to be made early on race day because we have so many drivers, crews and fans travelling to Speedway 660. And it is important to decide whether to race before these folks hit the road. But so much depends on the forecast and if there is a 90 percent chance of precipitation, we probably won't race. I am just glad that I don't have to make those decisions!
Enough about the R-word! Like all of you, after a week off, I am hungry for racing. This Saturday night the Carquest Pro-Stock Tour invades the Geary Woods. They have been averaging about 30 cars per show and I expect several of our own Irving Lubricant Pro-Stocks to compete.
The late Scott Fraser put it best when he said "You have to respect this track or it will hurt you, but this is a great place to race and I love it here." Scottie owned pro stock racing at Speedway 660 for several years, so much so that we referred to the Geary Woods as Fraserville!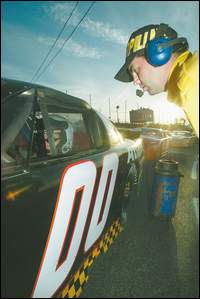 Scott "The Phenom" Fraser respected Speedway 660 and dominated pro-stock racing here before he died in a snowmobile accident a few years ago.
My point is that you have to adapt the way you drive and the way you set up your car to the track you are running. And that's what the good drivers and their crews do. We heard Johnny Clark rave about how much he loves Speedway 660 before the PASS race a couple of weeks ago and Ben Rowe, the winner of that 200 lapper gave our track, fans and management an A-Plus rating in the Auto Pride Victory Lane.
We have the best racing on the east coast and maybe all of Canada because of dedicated fans, great race teams, super sponsors, our excellent staff & management and the track itself. As Johnny Clark said, our straight stretches are fast and the tight, high-banked turns are unlike any other track he runs, which makes it a unique and exciting speedway.
And that brings me back to the word Scott Fraser used. Respect, that's what its all about. The Saturday Night Hero who wins the Carquest Pro-Stock Tour race this weekend will have to run hard, but will also have to respect Speedway 660. And that's the way we like it. See you at the races!